Every channel has at least one cooking show on. People are hooked on shows about cooking competition, about cooking and traveling, about extreme baking, about kids competing on cooking shows — and this is all even before lockdowns and restrictions on movements. 
So it makes sense for the world's popular streaming services to also have one or ten shows that revolve around the concept of food, from cooking and eating it to learning the chemistry behind every steam and sizzle.
Make your mouth water and be inspired to cook up something in your own kitchen with these "sumptuous" shows on Netflix.
The creator of "Everybody Loves Raymond," Philip Rosenthal, takes on food and travels the world to discover different cultures and cuisines. 
You'll see him traveling to South Africa, enjoying a meal with Nelson Mandela's grandson and striking up a good conversation with his family, to floating tasting in Bangkok.
This series is more than dishes that can make your mouth water, it's for people who are interested in both food and travel. Phil's good humor and creative approach makes the show such a great watch.
Netflix has a knack for finding great stories and telling them in a way that captivates people's minds and hearts. From the creator of "Jiro Dreams of Sushi" and "Chef's Table," David Gelb puts Latin American chefs in the spotlight and lets them tell their stories, coupled with visuals of food being prepared, pans sizzling, hands cooking tasty dishes in a way that reflects the chef's story. 
It's a series about the food and the people who make them. As viewers, we are greeted with the contrast between magnificent visuals of the dishes, and the hardships the chefs featured in the series are going through. 
Street food will not only open your eyes to the circumstances of people around the world, but it will give you ideas about how certain cuisines are made. It will definitely make you appreciate the work and techniques of these hidden chefs.
A feel good show that will take you on both a culinary and virtual travel journey. "Restaurant on Edge," like the name suggests, is a makeover show for restaurants that need help and are on the brink of collapse.
Restaurateur Nick Liberato and chef Dennis Prescott team up to fix restaurants, and turn them into a place worthy of the name.
Not to be compared to Gordon Ramsay's much more savage "Kitchen Nightmares," a unique twist to this series is that it also has a touch of travelogue. Amid the makeover, we get a glimpse of the local area. There are scenes where local food and people in the community are featured.
If you want to watch relaxing restaurant makeovers, amazing food and destination videos, then this docu-series is for you.
"Chef's Table" is your show if you want to watch professional culinary experts from around the globe introduce you to food, their craft and the magic that goes behind making their specialties.
A Netflix original, the series takes you inside the mind and homes of the best chefs in the world. The mood for the program fits the classic vibe that surrounds each culinary expert. Filling the show with sophisticated shots and classical music that floats as we get introduced to the chefs and their background.
The show delivers an interesting, sophisticated and educational content that many will learn from and enjoy.
If you want to just sit back, relax and enjoy a show that contains food, travel, tips and insightful reviews then this show is for you. 
Berkeley-based chef Samin Nostrat takes us into a relaxing ride as she continues to explore the world and the wonders of cooking.
The show, which is inspired by her best-selling book, is about celebrating food with the basic element of good cooking in mind. Each episode is hosted by Samin, and you'll see her travel home kitchens around the world. She'll take you to Italy, Japan, California and other parts of the world. The best part is that she's not only tasting and exploring but doing what she does best, teaching people how to cook and how to appreciate good food.
Grub is the name of the game in this mouth-watering Netflix original docu-series. "Ugly Delicious" is about exploring grubs like pizza, tacos, barbecue and other food products that will make you need to grab something to eat while watching the series. 
The series is led by David Chang. The series not only raises your hunger but also does its job in raising cultural issues, reminding everyone that food is something that should bring people together. 
The list wouldn't be complete without dessert, and for this, we have the Netflix original series, Nadiya Bakes. It stars the "Great British Baking Show" winner Nadiya Hussein, well that was six years ago. Now she's published many cookbooks, written a memoir, and even did a couple of television programs. 
Her warmth and enthusiasm is then brought into Nadiya Bakes, as she shows viewers her baking techniques and puts a twist on classic desserts. 
The show will also feature visitors, and some fellow chefs as they all show their expertise in baking. 
Many who have watched the "Great British Baking Show" are aware of Nadiya's experimental streak. Using unconventional ingredients, like green cardamom (usually used in indian sweets and dishes) to create an unforgettable cake.
Creative, clever and imaginative, "Nadiya Bakes" showcases her expertise and ideas to people.
Watch, Cook and Eat Well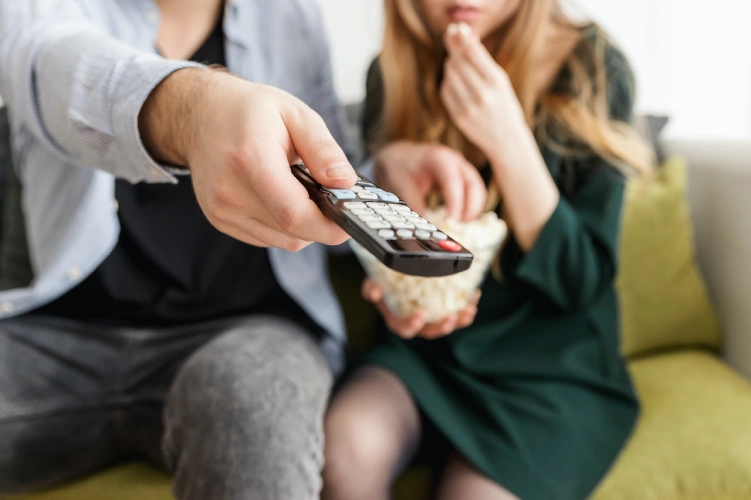 The recent pandemic might have gotten most of us trapped indoors and unable to go out whenever we want, however we can make the most out of the situation by cooking and trying to eat well. Good food always has the power to lift anybody's mood. 
These cooking and food shows are not just entertaining, they're also a great way to learn new skills that you can share with family and friends.