Are you looking for an exciting vacation destination to explore? If so, then look no further than Arizona! This beautiful southwestern state is home to various attractions that will make your trip memorable. From outdoor activities to cultural attractions, here are the things you definitely shouldn't miss in Arizona:
Hike the Grand Canyon
Arizona is home to one of the most breathtaking natural wonders in the world – the Grand Canyon. From breathtaking views of rocky ravines and sun-kissed desert terrain, hiking the Grand Canyon will give you an unbelievable experience that you won't forget any time soon. Whether you take a day trip or plan a multi-day adventure, ensure you are equipped with all the necessary supplies.
Be sure to bring plenty of water, so dehydration is not an issue during your journey. Pack light, but don't skip out on sunscreen, hats, and plenty of snacks. The best way to experience the canyon is by walking along the trails or taking a mule-riding tour.
Visit Monument Valley
When visiting Arizona, take time to explore the wonders of Monument Valley. Located on the border of Utah and the four corners region of the state, it is known as one of the most beautiful deserts in North America.
The sandstone masterpieces are hard to miss and adorned with native rock formations like the majestic Mittens and Totem Pole. This breathtaking scene also serves as a home for some ancient ruins from long ago. Spend a night under the star-studded sky, gaze at miles of canyons and rivers, and experience this remarkable landscape's cultural marvels.
Explore Flagstaff
When in Arizona, look no further than Flagstaff for the best that nature offers. Whether you are looking to hike up some of its famously picturesque mountainsides or just find a relaxing place to take in the warm sunshine, Flagstaff is guaranteed to provide!
With its close proximity to the Grand Canyon, you can taste one of Arizona's most iconic landmarks. Immerse yourself in Flagstaff's culture and explore the cozy cafes, quaint boutiques, and colorful art galleries sprinkled around town for a truly unique experience.
Enjoy Sedona's Red Rocks
When you're in Arizona, check out the iconic Red Rocks of Sedona. Many visitors have admired and photographed the mesmerizing formations over the years, as they offer some of the most breathtaking views in the entire state.
Whether you're an outdoor enthusiast looking to explore the area's hiking trails, or a passionate photographer seeking that perfect shot, there's no experience quite like enjoying Sedona's stunning red rocks. Guided tours are available for those who want to learn more about their history and formation. Don't miss out on this unique opportunity to explore one of Arizona's most renowned landmarks.
Experience Camelback Mountain
When in the Grand Canyon State of Arizona, experience Camelback Mountain. Located near Phoenix, it is the highest point in the region and provides stunning views of the surrounding area.
With various trails ranging from easy to difficult, there is something for everyone and hikers of all levels to experience. The year-round climate and long hours of sunshine permit visitors to explore this breathtaking mountain any time of year. Whether you are a native or just visiting, a trek up Camelback Mountain is sure to create an unforgettable memory.
Try the Cuisine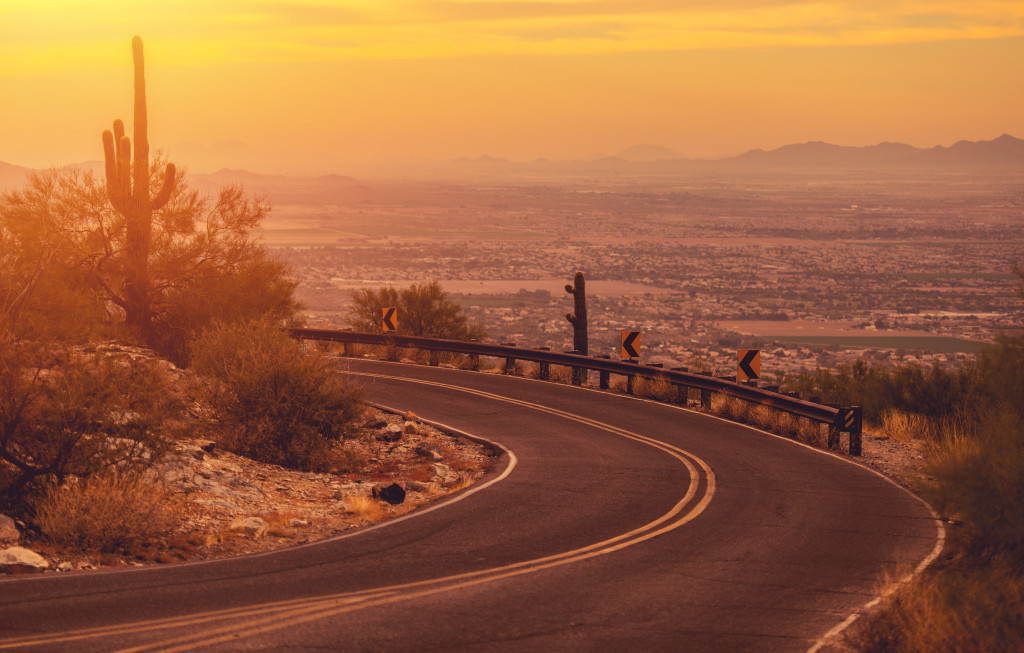 Arizona cuisine is a diverse blend of Native American, Mexican and American dishes with unique indigenous ingredients that make the most delectable recipes. Whether you explore the flavors of Yuma, Tucson, or Phoenix – each location offers savory specialties like chili verde burrito bowls, mesquite molasses tamales, cold-smoked Oaxacan moles plus sweet picarones to satisfy even the most adventurous palates. With territory-specific recipes such as Navajo frybread tacos, Sonoran hot dogs, and prickly pear margaritas, you're sure to have a taste experience like no other while in Arizona.
But if all that sounds overwhelming, you might not know where to start. In that case, you should get the help of a local Arizona guide. They can point you in the direction of the best hikes and restaurants and provide you with insider tips on how to make the most out of your trip to Arizona. They can help you to get the most out of your time in this beautiful, one-of-a-kind state.
So, if you're looking for an amazing and diverse experience, be sure to add all of these must-dos to your list when visiting Arizona. From the red rocks of Sedona to the peaks of Flagstaff, there's something for everyone in this stunning state. And don't forget to enjoy some of its delicious cuisine while you're here – you won't regret it!