Posted by Brad @ 11:05 pm on April 24th 2008
We've been talking about VP possibilities for the last few months, and one thing you might notice on McCain's shortlist…they're all older white men.
Today, it's being passed around that one of the short-listers may in fact be a 53-year-old woman not from politics at all…former Hewlett-Packard Chairwoman Carly Fiorina.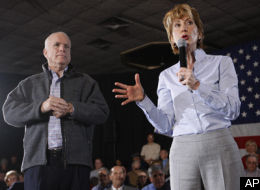 Sadly, the female or African American bench for the Republicans is pretty thin, at least for national players of the caliber needed to pull off a VP slot (that's also, incidentally, true for Democrats). But, the idea of McCain picking a young woman for his VP has to just have his insiders salivating. It would be a very, very, very strong move on his part, if he could find the right person.